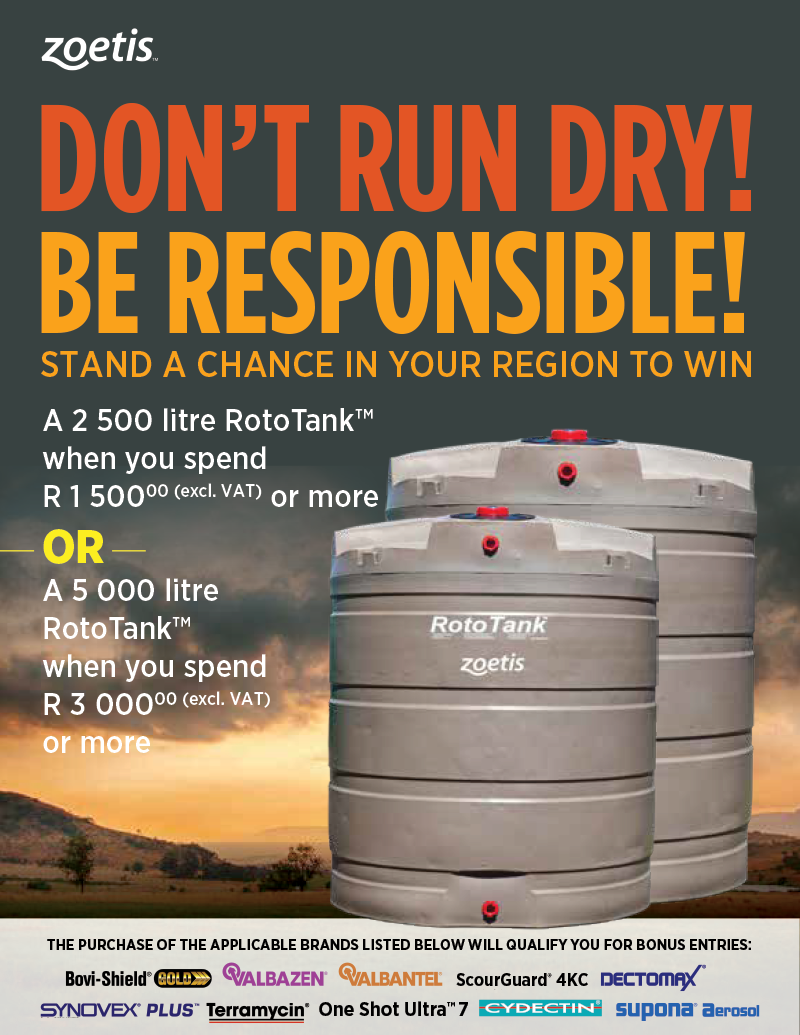 COMPETITION PERIOD: 1 MAY 2019 - 29 JUNE 2019
  HOW IT WORKS:
  Buy any listed Zoetis Stock Remedy* (regulated by Act 36 of 1947).
The minimum requirement for an entry, is a single transaction to the value of either: R 1 500.00  excl. VAT. (R 1 725.00 Incl. VAT.) OR R 3 000.00 excl. VAT. (R 3 450.00 Incl. VAT.) to secure your entry into your draw of choice.


 

Physical entry forms must be placed into the entry box at the agricultural retailer OR click on the link below for the online form OR send to:
AGRIBONUS
Postal Address: AgriBonus, Don't Run Dry Campaign, Private Bag X1799, Silverton, 0127 OR


E-mail: Hierdie e-posadres word van Spambotte beskerm. Jy moet JavaScript ontsper om dit te lees. | Contact: 012 843 5660 for assistance.





Entry forms also available on:  www.agribonus.co.za / from Zoetis Representative / Agri-businesses countrywide.
 

TERMS & CONDITIONS:

Delivery of the RotoTank™ to the winners is included.  

Installation & future maintenance costs of the RotoTank™ will not be covered under the prize award.

Please note that all winners will be announced by the end of June 2019 by telephone or email.